THE HISTORY OF MY MUSICAL CAREER

I began playing music at the age of 7 when I learnt to play the violin at Primary School and had piano lessons. I joined the School Orchestra and reached Grade 5 Violin. My Mum played the piano and my sister played the Piano and Oboe in which she has achieved Grade 8. She still plays with an Orchestra in Yorkshire from time to time. When I moved up to Secondary School I played less and less and eventually stopped playing. It wasn't until about 18 years later that I got my violin out again and started going to Folk Clubs with Phil Preen. After a short while of going to various Folk Clubs in the area, Phil and I got asked if we would like to form a Ceilidh band with Edward Reeve and Rose Gorringe.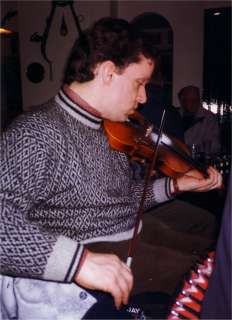 Playing Fiddle in a pub session
Whenever I'd met Rose and Edward at the Folk Club at The King William pub in Thurcaston, I had been fascinated by Edward's melodeon as I had never seen one before. As Edward wanted a fiddle in a band he was planning to form, he said I could borrow an old Melodeon he had at home and would give me lessons on how to play it, if I would join his band - I jumped at the chance! The band was known as 'The Acme Dance Company' and consisted of Edward on Melodeon, Phil on Percussion, Rose calling the dances and myself on Fiddle. We met regularly on a Thursday evening at Rose and Edward's house in Leicester.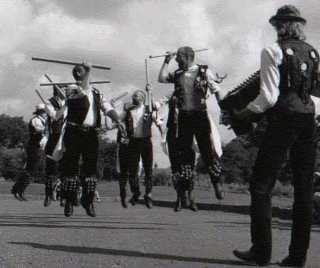 Edward Reeve playing for Anstey Morrismen

Shortly after this, I got involved with the Morris Dancing scene. Rose danced with Anstey Royale Chalfont North West Morris Team and Edward was one of the musicians along with Steve who played the Accordian. Steve left the team after a while as he moved to Yorkshire. Edward also played for Anstey Morris Men. I got invited to join Chalfont and my first public performance with them was at Trent Lock in Derbyshire.


I was still a bit ropey with the tunes at that time and I remember we stuck the music to the back of Edward's Jacket for the first few dance-outs and I played off that (Morris Musicians don't normally use music... it's not cool and it means you have to carry a music stand around with you which isn't very practical in processions!).

Edward also introduced me to the Hinckley Bullockers, which is a Morris Dancing Team which performs on just one day a year, on Plough Monday. There are only six practises for the event which begin in late October and it's always good to meet up again with the people who did it the previous year. Most of the Bullockers dance for other teams during the rest of year and I quite often see some of them at other Morris events dancing for their usual teams.


The Plough Monday Bullockers Tour requires the dancers and musicians to get dressed up with ribbons and rosettes on their jacket and trousers. I have gone out with the Bullockers since 1997 and I always seem to leave getting my costume ready to the night before the event. Phil also joined the Bullockers and we really look forward to celebrating Plough Monday (2 days early) each year!

Edward sold me the Melodeon I had borrowed off him, a D/G 'Gremlin', and I continued to teach myself to play it. I was (and still am) very enthusiastic about playing the Melodeon as it allows me to play the bass and treble parts at the same time, which is not possible with the fiddle. Although I didn't play the Melodeon in The Acme Dance Company, once I got my confidence up I began playing it at local Folk Clubs and for friends and family. The Acme Dance Company did quite a number of Weddings, birthday parties, dance workshops and a Sealed Knot Banquet before it eventually disbanded.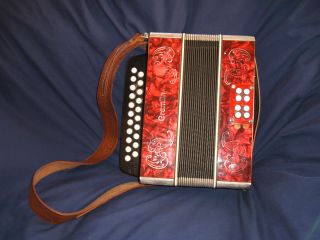 My first Melodeon - a D/G Gremlin
Very soon after the Acme Dance Company split up, I recieved several enquiries from other bands asking whether I would be interested in playing with them. I was asked by John MacDonald if I would be interested in playing with the Moonshine Ceilidh Band, which is made up of local musicians, the band line up depending on the requirement on the night and availability of the band members. My first performance with them was at Syston Conservative Club and it was at this gig that I first met Chris and Kate Punter who I ended up playing with quite a few times with their band 'Two Left Feet'.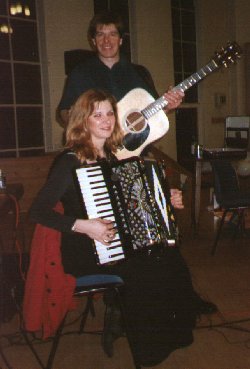 Two Left Feet
It was around this time that I met Lindsey Hurdley, who was a dancer with Anstey Royale Chalfont and is an excellent Accordian player. She asked me whether I would like to play with her band, 'Platform 2' at the Loughborough Folk Dance Club. I played with Platform 2 at Loughborough and Quorn Folk Dance Clubs and for quite a few Weddings, Birthdays and Parties including Phil's Engagement Party and my friends Pete and Sarah Wortley's Wedding.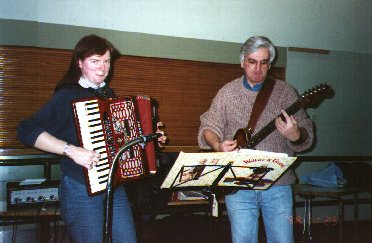 Platform 2
The Loughborough Folk Dance Club nights are an open invitation for any musician to turn up and play along with the band booked for that evening. It was because of this that I got to play a few gigs with 'Wheezle'. I turned up one night with my fiddle and ended up playing along with them. Most of the tunes I'd never played before, but I soon picked them up and on the strength of that evening I got invited to play a gig with them a couple of weeks later. I did several other gigs with 'Wheezle'.

In 1996, Edward Reeve left Anstey Royale Chalfont and I was asked to become the band leader on my Melodeon. I had never played my Melodeon for dancing before and most of the Chalfont tunes I had only ever played on the fiddle. I had a week's notice as it was the middle of our 1996 tour of Leicestershire Villages. I practised frantically for the next week and got the set together in time for the next Tuesday dance-out. I was pretty nervous but got through the night without any major problems. I have been told since that I seemed really relaxed (this was not the case!) and sounded like I'd been doing it for years (!!!!). I continued to be band leader for several more years and tried to encourage other musicians to join in as I think North West Clog is so much more impressive with a big band and a powerful drum.

At one stage the band has expanded in number to the point where we had myself, Linda Tomalin (Melodeon), Roy White (Mandolin and Melodeon), Katherine Hurdley (Fiddle), Lindsey Hurdley (Concertina, Accordian, Percussion) when she wasn't dancing, Lyn Cooper (Concertina) and Dave (Drum). Phil also started coming along so we gained another Concertina and a Tin Whistle too.

Also in 1996, I decided it was time to upgrade my fiddle. Up until this time I had been using the one I had at school, which was a second-hand fiddle which I think cost about £30 from someone in Sutton Bonnington and was advertised in the local press. I started looking through the papers and asking other fiddlers what to look out for. I eventually found a shop in Nottingham called 'Turner Violins' and went along one Saturday with Phil and Babs. I spent a couple of hours in a small room with hundreds of violins all hanging off the rooms grouped together in price range. I played the ones which were in the price range I was thinking of paying and eventually narrowed it down to three. The fiddle that I finally bought, and still use, is an Eastern European Fiddle which is approximately 130 years old and cost me £350.

Amplification had always been a problem with my fiddle. Until 1997 I used a tie-clip microphone which I dangled in the 'F' slot. This caused problems with the P.A. as the volume changed as I moved. Niall Cadwallader, who I played with in 'Moonshine' and 'Canny Craic', suggested to me that I got a Fishman Pickup installed which is embedded in the bridge of the fiddle and picks up the vibrations which is then fed to the Amplifier. I bought one at Sheehan's in Leicester which they installed for me and was extremely successful. Around this time I also bought a MicroVox for my Melodeon. This is a microphone system which is attached to either side of the Melodeon to pick up the treble and bass. I now use it all the time when performing on stage.

During all this time, Phil and I kept meeting up on a Wednesday night, either at his house or mine to run through tunes, with the intent of performing them together at Folk Clubs. Phil got asked through his Sealed Knot connections whether Acme would be a available to perform at a Sealed Knot Banquet for the Skippons Regiment as we had done it the previous year. Phil told them that Acme were no longer together, but that he could get something together with various musicians he knew. This was the birth of The Bang On The Wall Band.

The band began taking on other bookings, mostly for Sealed Knot Banquets through Phil's contacts. This was the first time I had actually been band leader (apart from for the Morris Dancers) and got to play Melodeon for all the tunes. We started getting other booking as well as Sealed Knot events mostly through people we knew and from various callers looking for a band for gigs they'd be asked to do. Although I really enjoyed Sealed Knot gigs, it was nice to start doing regular Weddings and Birthdays as I did't have to wear the borrowed 17th Century costume all the time!


It was around this time that I upgraded my Melodeon from Edward's old Gremlin to a Hohner 'Erica'. When I was playing outdoors for Chalfont it was noticed that the sound from the D/G Gremlin didn't carry very well and Lindsey Hurdley told me that her husband Tony had a Hohner 'Erica' D/G Melodeon which he never played and asked if I would like borrow it, which I did. This Melodeon was a lot better than the Gremlin being a lot more powerful and therefore ideally-suited to Morris Dancing. I eventually bought the 'Erica' and used it wherever I played, both with the Morris Dancers and with The Bang On The Wall Band.

A new musical venture for me started shortly after I began using the Hohner 'Erica' and that was playing for singers with the Irish/Geordie band 'Canny Craic'. John McDonald (who runs the Moonshine Ceilidh Band) told me he was interested in starting up a band to perform songs from Ireland and the North East of England at pubs and anywhere else that would have us. He asked whether I would be interested in joining, which I was, and we got together with Niall Cadwallader (who was also in the Moonshine Ceilidh Band) at John's house one evening and worked out what songs/tunes we already knew and what others we would like to play.

We found we had quite a lot we could do and our first gig was at 'The White Horse', Seagrave. We went down really well and we began getting bookings at other venues. We had regular bookings at 'Flan O' Brien's' Irish pub in Loughborough and 'The Royal Oak' in Cossington as well as being asked to play at parties and on Canal Boat trips. We also developed a small following of people who regularly turned up at our gigs. After a while we were joined by Michael Scrivens, an excellent Melodeon player who also played with the Moonshine Ceilidh Band.

Our repertoire began to expand and we started meeting up regularly on a Thursday Evening in "The White Horse" pub at Seagrave on a Thursday evening where John started up a weekly Folk Session in the bar. These turned out to be great evenings and we had some wonderful times often playing late into the night for the regulars. We started a weekly tradition of playing 'Captain Pugwash' (with me on the Fiddle) whilst the RNLI Charity Box was passed around the pub. Apparently this made quite a bit of cash for the RNLI and one week there was even a photo in the "Loughborough Echo" of an RNLI representative visiting the pub to thank the landlord for all the money they'd collected!

The Bang On The Wall Band continued to get a steady trickle of gigs. We didn't charge very much as we just wanted to get experience and weren't too bothered about the money. The lineup was me and Phil with usually 2 other musicians joining us. The other 2 musicians changed from gig to gig depending on availability and instrument lineup that Phil and I wanted to try out. We also started using different callers as Rose had moved to Devon and got married to Fiddler Chris Bartrum.

The main caller we were using was Roy White who we'd met from when he played with the Anstey Royale Chalfont band and also through Loughborough Folk Dance Club which he runs. Roy was extremely helpful in getting The Bang On The Wall Band up to speed, often meeting up with us before a gig to run through exactly what dances he was going to call and helping us select tunes from our limited repertoire that would fit the dance.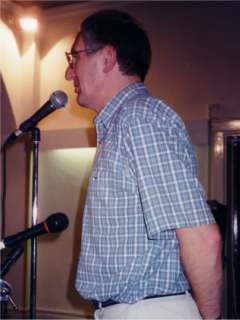 Roy White
After a while, Phil and I decided that we'd like to sort out a regular line-up for the The Bang On The Wall Band. From the experience we'd built up from both playing and listening to other bands we had an idea of the kind of sound that we were after and what suited our playing style. Most of the tunes I played I'd picked up from playing for North West Morris with Anstey Royale Chalfont and from the musicians sessions in the pub after danceouts as well as the tunes I'd learnt with The Acme Dance Company via Edward. North West Morris music tends to have a very strong driving beat led by squeezeboxes (Melodeons or Accordians) with a big drum to emphasise the rhythm of the dancing. This was the kind of sound we decided we wanted The Bang On The Wall Band to have.

We'd noticed that although we chopped and changed the band lineup, we were tending to choose some instrumentalists more often than others because the instruments they played and their style of playing seemed to fit in very well with what Phil and I were doing.

The most regular musician we'd used was Niall Cadwallader who I knew through 'Moonshine' and 'Canny Craic'. Niall had been been playing guitar with us, but was also very proficient on bass so we offered him the position of being our regular guitarist which he accepted.

For the other position of regular musician we decided to try out different musicians at gigs over a period of a few months and see what happened. Some turned out to be more successful than others, but in the end we decided that we liked the combination of bass and guitar so we asked Colin Keefe if he'd like to join us. He accepted our offer and Niall moved onto bass which was his preferred instrument.
This is the first choice line-up that we've used ever since, using various other musicians to stand in for any of us if ever we're unable to make it to a particular gig.
Some of our 'stand-ins'....




John
Wardie
| | |
| --- | --- |
| | |
| Janet | Bob |
For The Bang on the Wall Band we came up with a band dress code of black jeans and the most GROTESQUE shirt you could find. It's become a bit of a tradition..... people have started buying me horrid shirts if they see any in charity shops! I now have quite an impressive collection as you can tell from the photos on our website.

One thing that has helped us to get gigs has been to have our own website which Phil created for us and to have our own domain name, http://www.bangonthewall.com to make it easier for people to find us via the Internet. We have a booking form on there and sound clips for people to get some idea of what they get if they book us. Since the creation of this site we've had a regular stream of gigs and we're currently out most weekends.

In 2003 we were asked if we would like to become the 'house band' for Park Farmhouse Hotel which was a venue situated near Donington Park Racetrack that hosts Wedding Receptions. Since then we've done regular gigs there, most of which have been successful although it can be a difficult venue to play due to the fact that the bar, where people tend mingle, is situated outside the Main Hall.

Also in 2003, I decided to have a change of Morris Team. Lindsey Hurdley had mentioned to me that she had been thinking of joining Mortimers Morris from Nottingham who were a North West Morris side I had really enjoyed watching as they had a unique style both in costume and performance (dancers and band) and they danced to French tunes which was something completely different to all other Morris sides I'd seen before. The music was of a very high quality and I felt that if I joined too then it would allow me to learn a whole new style of tunes that I'd never tried before and hopefully being part of the band would improve me as a musician. Lindsey and I got in touch with them by email and we went along to practice one Sunday evening. We both really enjoyed it and we both still perform with them. Mortimers didn't do weekly summer evening tours as Chalfont did so I was a bit limited as to when I could perform with them at danceouts, but whenever I've been out with them I've thoroughly enjoyed it.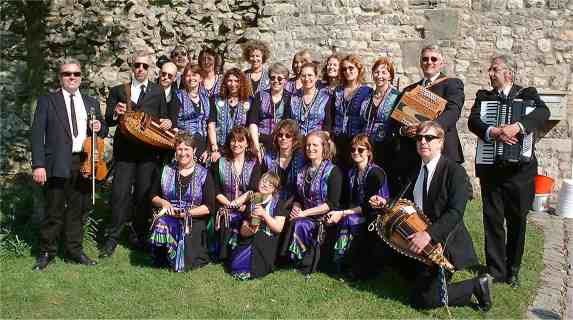 Mortimers Morris

It was through Mortimers that I met John Garner. John was the lead musician and is an excellent melodeon player, particularly playing French Music. He had a business called "Melodions Online" selling Castagnari Melodeons from Italy and needed a website. He asked me if I could create one for him which I did. In return he sold me a very nice 3-row Castagnari Handry at a VERY good price which I play when I'm with Mortimers or when I'm performing alone indoors, for example at Grand Union Folk Club. It's rather heavy so if I'm playing out anywhere that requires changing location I still use the Erica, but the Handry has a beautiful sound and is a pleasure to play.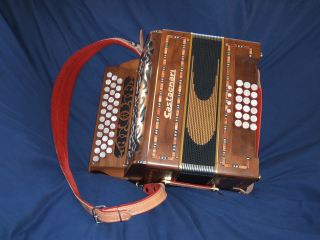 My smartest Melodeon - a 3-row Castagnari Handry
I continued to play for Chalfont at this time as well as playing for Mortimers although I was starting to feel that I was doing too much, what with The Bang on the Wall Band taking on more gigs, Chalfont practice on a Tuesday evening, Mortimers practice on a Sunday and the regular singaround at The White Horse in Seagrave on Thursday evening on top of my full-time job as a Computer Programmer.

After a while I felt the time was right for me to leave Chalfont after quite a number of years with the side. They had recruited several musicians who were more than capable of leading the band so I knew they would be fine if I moved on, although I told them that if they were ever short of a musician I'd be very happy to turn out for them (as long as Coventry City hadn't got a home match!). If they dance out locally during the summer evening tours and I'm not doing anything else or they're ever dancing at the same event as Mortimers I still really enjoy joining in with their band.

At this point Phil had left Chalfont to join a mixed North West Side from Nottingham called Sergeant Musgraves where he met Julie who was to become his future wife.

Throughout 2003, 2004 and 2005 The Bang on the Wall Band became very busy taking regular gigs in Leicestershire, Nottinghamshire, Derbyshire and Northamptonshire. We played for Weddings, Birthdays, Anniversaries, Charity events and even at the Town Hall Square in Leicester for the switching on of the Christmas Lights in 2003 which was broadcast live on Radio Leicester. I became brave and started putting several tunes together for a dance rather than playing safe and sticking to the one tune for the whole dance!
The Bang on the Wall Band
Since right from the start of The Bang on the Wall Band when we used Rose Gorringe and then Roy White as Caller we'd used a wide range of different callers which we sorted out on a gig-by-gig basis. This was good experience for us as we had to learn to play music to fit a range of different dances and to ready to cope with requests for different types of tunes. In the early days we'd discuss with the caller exactly what they were going to do and so we were able to find the right tunes in advance (which gave me time to make sure I was able to play it!).

This was to change in late November 2003 when we had a gig at The British Legion in Syston and all our regular callers were unavailable! I phoned my friend Fiona Maurice Smith who runs a Ceilidh Band Agency and she put us in touch with a guy called Larry (Laz) Gilbert who lived in Countesthorpe just south of Leicester. Strangely enough, Laz had just sent out an email to lots of Ceildih Bands in the area looking for work including us, so we had already heard his name.

We contacted Laz and luckily he was available to call for us in Syston. The gig went well and we felt we got on really well with Laz and his calling style so we asked him to call for us for a few more events. Eventually we asked Laz if he would like to become our first choice caller and become considered part of the band. He accepted our offer and Laz has been calling for us regularly ever since.
During 2005 Phil suggested to me that I join Sergeant Musgraves. They had a very large band with several members who were capable of leading so there would be no need for me to feel I had to turn up for everything or lead. I did miss the weekly local summer tours that Chalfont did and Sergeant Musgraves also did the summer tours, although being based in Nottingham it meant getting to practices would be a bit of a trek and some of the danceout tours would be quite a distance to get to but I decided to give it a go.




Sergeant Musgraves
I still play with Musgraves although in 2006 I decided not to go to practice every week or to go to every danceout on the summer tours as I was back to doing far too much again and it was starting to wear me out.

Throughout 2006, The Bang on the Wall Band became very busy. We still had a regular stream of gigs, mostly via the website but some were repeat bookings or people who had seen us before which I was very pleased about.

We started recording a CD with help from Adrian, Colin's brother, at Colin's house in Long Eaton one Sunday morning which is still unfinished and we keep saying that we must finish it off.
During this year, I bought some new speakers for the band. I don't know much about the sound equipment side of a band but fortunately there are people in the band who do and so we decided to get a pair of Mackie speakers which we got from "Academy of Sound" and cost £1000. We've been very impressed with them and it's certainly been a worthwhile investment. The ones we were using before belonged to Phil and we'd noticed they were starting to sound a bit worn out.

Another purchase during 2006 was a new Melodeon. I went over to Southwell to see Bernard Blackwell as a reed on my Melodeon had gone and needed fixing. Bernard is an expert instrument repairer and I've taken all of my Melodeons to him whenever there's been a problem. The bellows on that Melodeon were very leaky (Bernard said it one of the most used boxes he'd ever seen!) and we decided that it may be time for me to invest in another. I had been very pleased with the sound of the Hohner 'Erica' so I decided to get another. This new Melodeon is the one I nowe with The Bang on the Wall Band and the majority of my playing for Morris Dancers although I sometimes take the leaky one along to gigs and leave it in the car in case of emergencies! Fortunately this has never been required (yet! Hope I'm not tempting fate!).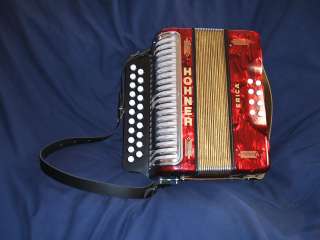 The Melodeon I play the most - my D/G Hohner Erica
In October 2006, we were asked to play for the Farewell Ceilidh on the Sunday Evening at Loughborough Folk Festival. This was the first time I'd played for a Folk Festival and I have to admit was a bit nervous about it beforehand. I don't normally get nervous before a gig, but I find it's a bit different when there's people in the audience that you know or are musicians themselves who are perfectly capable of doing what's you're doing!
Being a Sunday Evening at 10:30pm-12:30am it wasn't very well attended, but I thought we made a good account of ourselves. For this gig sound engineers were provided so we just had to turn up and plug in and they dealt with all the technical side which was nice.

We've decided that each year we're going to put on our own Ceilidh giving the proceeds to charity and this year (2006) we're holding a Christmas Ceilidh at West Park Pavillion in Nottingham on 16th December in aid of McMillan Nurses which is a Cancer Charity. If you'd like to come along you'll be very welcome. Information of where to get tickets can be found here.

TO BE CONTINUED....