MARTIN'S FAMILY AND FRIENDS PAGE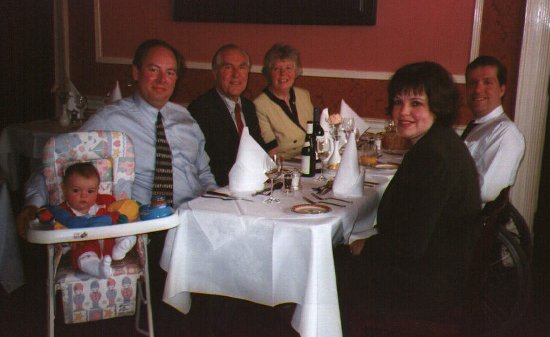 This is me with my closest relatives.
(L-R) Lucy (my niece), John (my brother-in-law), Dad, Mum, Kate (my sister) and me.
ALAN WILDIG (DAD)

This is my Dad. He is now semi-retired from his job at Loughborough University as a lecturer in Transport Technology. He is a keen gardener and a member of the Loughborough Naturalist Club. He enjoys walking and photography.
BRENDA WILDIG (MUM)

This is my Mum. She is a housewife and enjoys sewing, knitting and walks in the countryside. She is an excellent cook ...particularly Sunday lunch (grovel, grovel !!)
IAN MURPHY

Ian used to live in Loughborough but has now moved to Sydney, Australia with his job. He gets sent to Paris on business from time to time and he can sometimes manage to stop off in England en-route for a couple of days. Ian has a great sense of humour (sick and twisted - like mine) and we keep in touch via email and occasional long distance phone calls. I would like to publicly apologise to Ian for the times when I've mis-calculated the time diffference between Loughborough and Sydney and got him out of bed. I once stayed up late into the night - well, early in the morning actually - to phone him on his birthday thinking he was 11 hours behind, only to discover he was 11 hours ahead and had gone to work....Ooooops!
PHIL PREEN

I met Phil when I worked for Polymer Laboratories. Phil was the other programmer and we had a lot of fun whilst writing software to control DMTAs, DETAs and ACERs (I shan't go into detail about what they are - unless you're into Thermal Analysis or Rheology you'll be confused, bored and wish you'd never asked). He now works for Parallax Ltd. in Coventry but still lives in Loughborough. We both have an interest in beer and folk music (preferably at the same time) and have formed 'The Bang On The Wall Band' together. Phil is an excellent percussionist, concertina player and singer (makes you sick doesn't it?) and is an active member of the Sealed Knot Society who re-enact battles from the English Civil War. If you ever see Phil at a Folk Club ask him to sing you 'The Fish Finger Song'.

Click here to visit Phil's own home page.
BABS CROSIER

Babs lives in Loughborough although she originally comes from Dorset.She dances with Bare Bones Morris Team and works for Intactix in Leicester.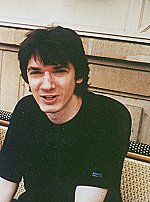 ROGER ELMER

Rog and I were on the same course at Coventry University which was then known as Lanchester Polytechnic. Rog has bought a house in Earlsdon and works as a Web Developer. We often meet for lunch at 'Browns' whenever I'm in Coventry for a football match. Rog has a great sense of humour and does brilliant impersonations.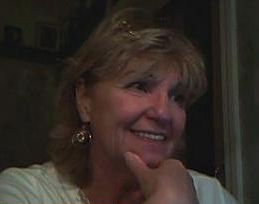 PAULETTE CRAIG

Paulette lives in Voluntown, Connetticut, USA. I met Paulette on ICQ and we chat on the Internet from time to time (when we are both having a night in and I can face a late night due to the time difference between England and the U.S.A.). Paulette has two grand-daughters, Jessica and Amanda.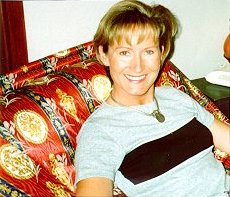 KIM SPICER

Kim lives in Portsmouth, England. She is married to Clive, who is an Officer in the Royal Navy, and has 2 sons, Rory and Oliver. She works as a Market Researcher. We keep in touch through ICQ but rarely seem to manage to be on at the same time.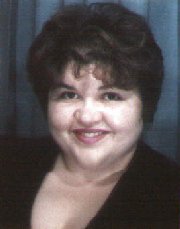 STACY CYMBALISTY

Stacy lives in King City, Ontario, Canada. She works as a shop assistant in two different shops. I met her on IRC but now we chat on ICQ.

I have converted Stacy into a Coventry City FC supporter and hopefully she will convince her brother, Shawn, to do the same.
RORY CLEARY

Rory drinks. When he's not drinking (and sometimes even when he is), Rory is a fanatical Rugby Union follower (well, he is Welsh!) and has a season ticket for Leicester Tigers Rugby Club. I have been to several matches with him including the European Cup Final against French side Brive at Cardiff Arms Park (which was my first ever match - and Leicester lost!) and the Heineken Cup Final at Twickenham (which they won). Rory is married to Sue and has a son, Owain.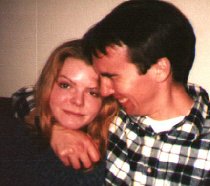 PETE AND SARAH WORTLEY

I met Pete when I joined Polymer Laboratories in 1990 where he worked worked as an Electronics Engineer. Sarah joined the company several years later as a Secretary/Receptionist/Tea Maker.
Pete and Sarah got married in East Leake and I was very honoured to be asked to be an Usher. They have a son called Adam.
Pete will HATE this photo, but until he provides me with a better one, he'll have to put up with it.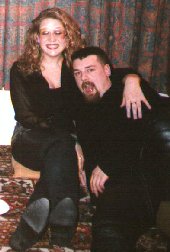 STEVE AND MARIA HOPEWELL

I have known Steve since I was eleven when we were at school together and we've kept in touch ever since. Steve was terrified when he heard his picture was going on my Web Page as he knows I have several VERY old photos of him. Steve and Maria keep snakes and also have a Gecko and an Iguana. I once spent a night on their living room floor to be told that one of the snakes had gone missing and was in that room somewhere, but not to worry as it was 'probably' hibernating !!!!! I didn't sleep too well. They've since found it.
Steve and Maria have lived together for several years and got married in 1999. They have a son called Brandon.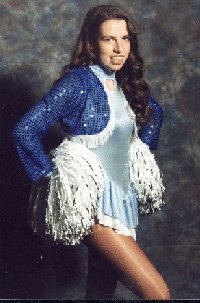 NADINE (SNORTY)

Nadine is a cheerleader with The Crew, who cheerlead for Coventry City Football Club (and also Coventry Crusaders Basketball Team and Coventry Bees Speedway). We keep in touch via email and she always gives me a wave when she's dancing at Coventry's home matches.

Click here to visit Nadine's own home page.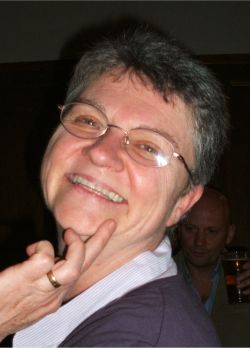 SUE CLEARY

Sue is Rory's long-suffering wife (25 years next year - Good God! Shouldn't she be awarded an MBE or something? You don't get that long for murder!). When she's not in Paris, Sue works as a teacher at the Convent in Loughborough.

In her spare time, Sue enjoys driving around Loughborough in her Renault Clio or chatting to Papa while sitting in her favourite chair in the back garden.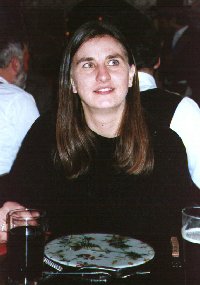 JULIE PREEN

Julie is Phil's sister. She lives in Loughborough and is a member of the King's Lifeguard of Foote Regiment of the Sealed Knot. This photo was taken during the 1999 Plough Bullocker's Tour, where Julie very kindly agreed to provide transport for Phil, John and I. We'd very much like her to drive us to drink again next year.

Click here to visit Julie's own home page.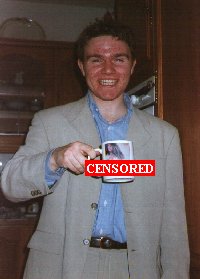 OWAIN CLEARY

Owain is Rory and Sue's son. He is studying Modern Languages at University and is currently living in Paris for a year (have you ever been to Paris, Rory?).
Owain used to enjoy a beer or a glass of wine, but since his 21st birthday he's prefered hot drinks.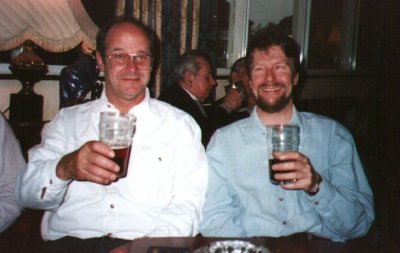 GLYNN VAN-DE-VELDE AND JOHN DUNCAN

I met Glynn and John when I worked with them at Polymer Laboratories. We have kept in touch through our mutual interest in drinking beer and meet every Friday night for a pint or six. We usually go to The Beacon but sometimes we wander down into town and go to The Garton.

If you ever see us in either of these drinking establishments, or any other one for that matter, please feel free to buy us a pint - Cheers!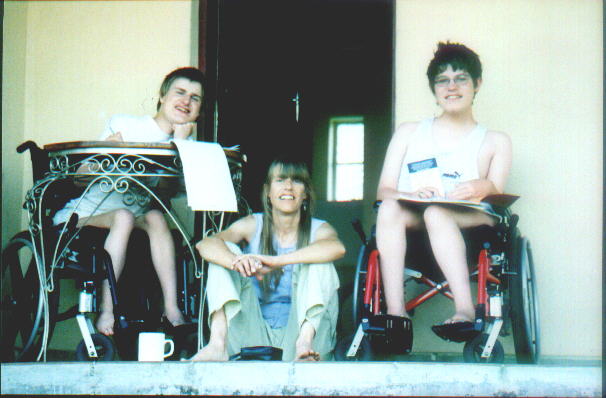 BUN

This is Bun with her 2 sons, Daniel and Luke, on holiday in South Africa.

As well as living with Daniel and Luke, Bun shares her home with Chip the Chipmonk, Rocko the Chinchilla, Billbo, Stan and Roland the Rats, Troy the Plated Lizard, Rachel the Rabbit, She-kat and Mel the Cats and Socket the one-eyed Parrot with a twisted beak.
---