MARTIN'S LOUGHBOROUGH PAGE
(I HOPE THIS DOESN'T MAKE IAN HOMESICK!)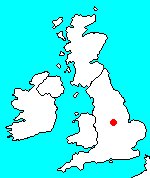 Loughborough is a busy market town with a population of just under 47,000 situated to the North of Charnwood Forest in Leicestershire. It has strong connections with with the textile and bell-making industries, the John Taylor Bell Foundry being the largest working bell foundry in the world. Modern industries in Loughborough include the world famous Ladybird Books and several large pharmeceutical companies.

Loughborough has a renowned University of Technology which is on a 216 acre site close to where I live. It is particularly well known for its Sports Science Dept. who's facilities and experience attracts many well known atheletes. Because of the University, the population of Loughborough increases greatly during term time (I've noticed that some of the road signs tend to go missing or get moved during the first weeks of term and it can also be very difficult to get served in the town's pubs!)

SIGHTS OF LOUGHBOROUGH
The Carillon

The Carillon, which is situated at the centre of Queen's Park, is a memorial to the men of Loughborough who died in the First World War. It has 47 bells which are played regularly during the summer. The tower is 46 metres (151 ft) tall and contains exhibits of memorabilia from every war since the First World War right up to the Gulf War.
The Parish Church of All Saints

The Parish Church dates back to the 14th century. In the grounds surrounding the church are the oldest buildings in Loughborough, including the Manor House which dates back to 1477. My sister got married in this church.
The Market Place

Loughborough Market is held twice a week every Thursdays and Saturdays. The only exception to this is on 3 days in November when the town holds a Street Fair with rides and other attractions. During these 3 days, some of the streets in the town centre are closed to traffic. The Street Fair has been held in Loughborough since it was granted a charter in 1221 by King Henry III.

'The Sockman'

'The Sockman' (the one on the left in the photo, in case you were wondering) is situated in the Market Place near the end of Market St.
Queen's Park

Queen's Park is at the centre of town with the Carillon as it's centrepiece. The Park also houses a bandstand, where concerts are played over the summer, Queen's Park Bowls Club and ducks....LOTS of ducks! Queen's Hall, which is on Granby Street adjacent to the Park, is currently being converted into the town's museum. Granby Street is also where the town's Library can be found. This can be seen on the photo (see left).

My House

This is my house. This picture was taken several years ago after I'd just bought it. I've had a lot of work done on it since then, so it looks better now.
---